Welcome to the Bait Shop
No fishing trip is complete without bait and tackle.
The Bait Barn carries a variety of fishing supplies from bait and tackle to nets and stringers. There are far too many items to list everything we carry, but take a look at the list below. If you're looking for something specific and don't see it on the list, give us a call at 979-778-3056 to see if we have it.
Bait, Tackle & Fishing Supplies
Live Bait
Golden shiner minnows in several sizes
Bait Perch
Goldfish
Worms
Frozen Bait
Shrimp
Shad
Chicken liver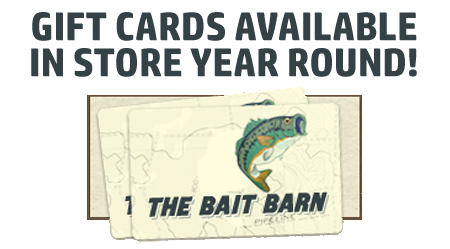 Tackle
Dough, stink bait
Monofilament line, green braided twine
Hooks, weights, bobbers, bells
Leaders, swivels
Rod, reels, rod holders
Live bait buckets, aerators, water conditioners, batteries
Nets - dip, landing, cast
Stringers, baskets
Crappie rigs, jigs
Artificial (H&H, Bett Spins, Spoons)
Fillet knives, skinners, pliers, scaler
Perch, turtle traps
and much more!